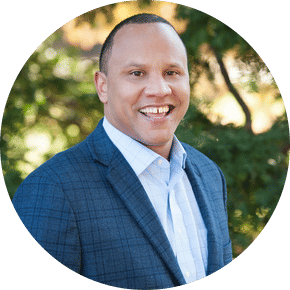 Robin Martin
REALTOR Salesperson Stakeholder
Robin, a native-born Philadelphian, grew up in the Upper Peninsula of Michigan. He returned to  Philadelphia to attend the University of Pennsylvania. Starring in both the classroom and on the track,  Robin was a three-time All-American in the 800m and one of the US's top athletes. Robin has a great  appreciation for the work it takes to be successful, and his drive and dedication have been the  foundation of his real estate career. He provides a higher standard of service as a real estate agent,  and in all aspects of a business, he demonstrates integrity, professionalism, and compassion. 
Before entering real estate, Robin was the Head Men's Track and Field coach at the University of  Pennsylvania. He supported his student-athletes to help them achieve a high level of academic and  athletic success. After the birth of his daughter, Robin moved from Penn into the real estate world.  Every day he continues to bring his passion for helping others, as well as his intimate love and  knowledge of the Philadelphia area, to help his clients achieve their real estate dreams. 
With the encouragement of his colleagues, friends, and neighbors, Robin started Premier Home  Group (PHG) in the New Jersey and Greater Philadelphia areas. PHG was created with the mission  of providing a premier level service for every homebuyer and seller and a real estate experience  singularly focused on the client and their needs. To his clients, Robin is a reliable partner that  consistently achieves positive results. 
Robin currently resides in Havertown with his partner Samantha, daughter Audrey, and their dog,  Jackson. In his spare time, you will find Robin listening to podcasts, exploring the world with his  family, or playing HORSE with his daughter.